News: A glimpse of Issue 1!
Wednesday, May 2, 2007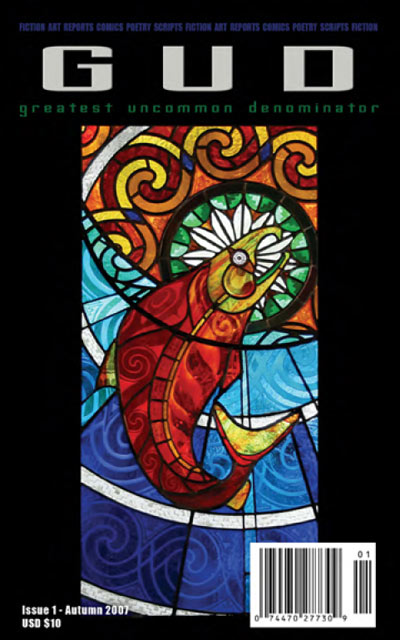 Here's the cover! What do you think? The art is a stained glass piece by Oisín Mac Suibhne, titled "An Bradán Feasa (The Salmon of Knowledge)". If you're not familiar with the tale, he's been kind enough to give us a rendition of it for the magazine.
We've been dropping teasers of Issue 1 on our spamlist, so if you want a feel for the content of the issue, just flip the bit in your account to "spammable".
And for those of you looking for some recommended reading, or just looking to while away your time on the internet--we've added a "
reviews
" section, where we're hoping to review small press print and online publications. Our first review was of
"Gun Shy", by Ben Rehder
.
Ben Rehder's Gun Shy is a fun romp for the Ritalin-choking child in all of us, dancing around the topic of guns and gun control. It's the fifth novel in his Blanco County mystery series; and while I haven't read the previous books, so far as I could tell there's little or no thread weaving them together besides location and, perhaps, game warden John Marlin; so it's easy enough to pick up here and not worry about the others.
- reddit, digg, facebook, stumbleupon, etc... please! ;)
3 comments; 0 subscribers
Do you have a comment? Log in or Register; registration is quick, painless, free, and spam-free (unless you ask for it)